What's the difference between an Independent Contractor and an Employee?
The process of properly classifying a contractor is complex and confusing. Federal, state and local governments have strict classification regulations, making legal compliance difficult. If misclassified, contractors can violate wage, tax and employment laws. Your business may be liable for paying penalties, back -taxes, missed wages and benefits, and be at risk of being drawn into crippling lawsuits.
Our Documented Process
Whether you need to audit an existing workforce or plan on hiring, we utilize a meticulous evaluation process that exposes any potential liabilities. Our legal and HR teams are well-versed in the requirements of vetting an employee and stay abreast to local, state and federal government regulations. Whether you are looking to utilize an Agent of Record (AOR) or Employer of Record (EOR), Suna provides the flexibility of expanding your workforce as you desire.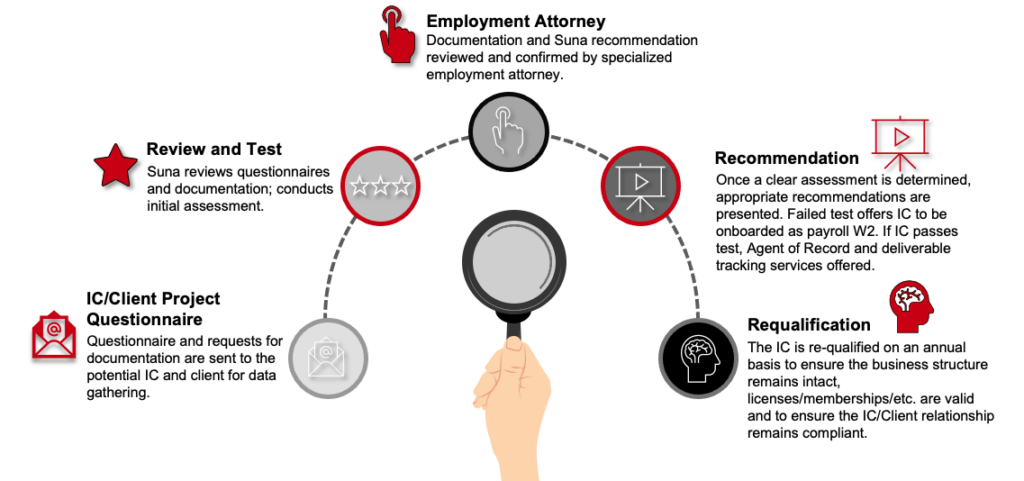 Not Sure Where To Start?
SWM offers an initial IC assessment free of charge to new clients. The Free Independent Contractor Evaluation provided by Suna Solutions is not constituted as legal advice and is a service provided for general guidance based on subject matter expertise. A full legal consultation in which Suna assumes the legal liability is a contractual service and fees may apply.