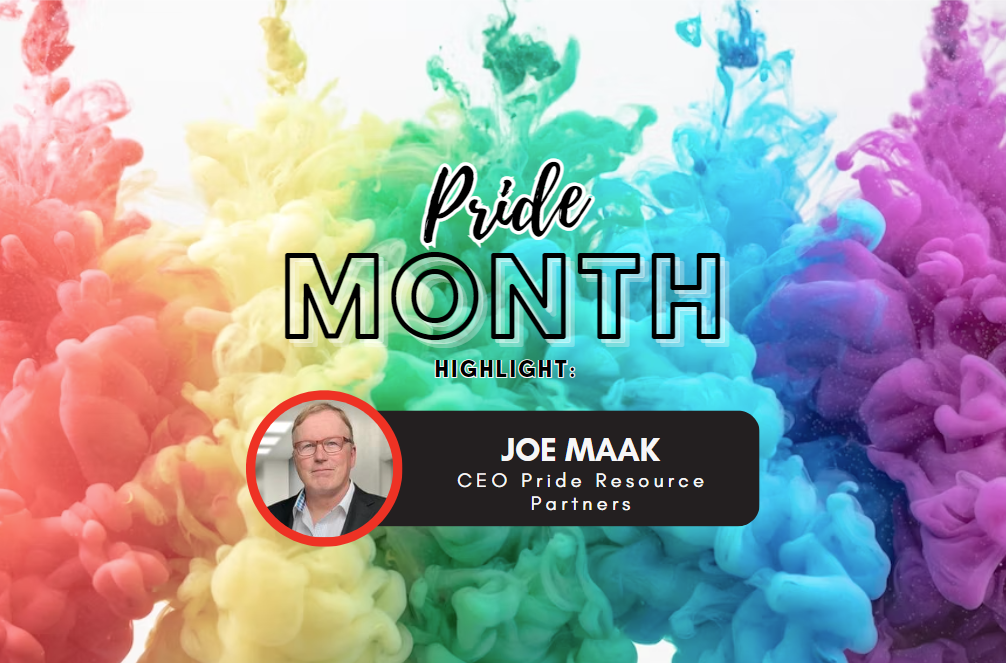 In honor of #PrideMonth, we are highlighting business owners in the LGBT community. Read on to discover how Joe Maak, CEO of Pride Resource Partners, promotes diversity and inclusion through his business.
Can you tell us about the founding story and vision of your LGBT company? What motivated its creation and what impact does it aim to make?
After working 15 years for the same company, I finally said goodbye to a job that I loved doing. I left because the owners of the company let me know that there wasn't a place at their table for someone like me. When I realized that a partnership was out of sight, I quickly send my resume to a local aerospace company who paid me double of what I was making previously. Great, but this company also was operated by a lot of straight men and women who apparently had a problem welcoming an openly gay person. Shortly after; I realized that I needed to work for myself, not anyone else. I founded Pride Resource Partners because I wanted to create an openly diverse firm welcoming anyone from the LGBTQIA+ community, a place that would mean business and fun at the same time. Pride now is delivering quality project management solutions to all major public utilities in California, a beacon for what an LGBTQIA+ company can deliver.
How does your company prioritize and promote diversity and inclusion within its own workforce?
In all our corresponds with clients, employees, and applicants we advertise our diverse background. We do this to promote not only diversity within but also externally. Our workforce has been diverse. We open our doors to anyone without hesitation regardless of orientation, sex, race, political affiliation.
Can you share any specific initiatives, programs, or policies that your company has implemented to support and uplift the LGBT community?
Since 2019, I have supported and sponsored policies at state level to promote an increase of contracting opportunities of the public utilities like SDGE with local LGBTQIA+ business. We managed to do this very successfully by raising the SPEND goal from zero to 1.5% within General Order 156 of the California Public Utilities Commission. Under this order Public Utilities are ask to increase their business contracting to 1.5% of all there organization spend by 2024. This equates to about 600 million dollars a year of contracting dollar with LGBTQIA+ businesses.
What partnerships or collaborations has your company established with other organizations or businesses that share a commitment to LGBT rights and equality?  
In 2019 we co-founded Buildout California, the first of it's kind LGBTQIA+ industry organization in the world focusing on networking and contracting opportunities between the "Regulated" utilities  and industry organization that focuses on Construction, Architecture, Engineering, and Real Estate. We have been very successful in building the community throughout California.
Can you share success stories or positive impacts that your company has had on the lives of LGBT individuals or the LGBT community as a whole?
Our motto is to give back to the community. We do this by charitable giving to organizations that help support the gay communities. This includes our local organizations like the CENTER, Mama's Kitchen, Meals on Wheels, The Trevor Project and much more. Among the charitable giving includes scholarships in perpetuity at MiraCosta College. Every year the LGBTQIA adviser and his team pick from hundreds of applicants to award one scholarship. We want everyone to become successful!
How does your company celebrate Pride month and support LGBT visibility and empowerment during this time? Are there any specific events or campaigns that you're excited about?
We started early in the founding years to promote the company and its diverse workforce. Apart from offering unique mentorship programs, training programs to diverse firms and individuals, we also participate in the local gay pride activities, be it as spectator or sponsor or participant with a float. For several years we co-sponsored a float with the SDGBA, an AIRSTREAM covered with our colorful logo, escorted by our employees, families and friends. We love doing this.
What advice would you give to other companies looking to be more LGBT-inclusive and supportive in their practices and policies?
Although I hear many companies' spiels about inclusion and support, I often wonder why they continue to keep excluding LGBTQIA+ persons from things that is offered to many others, a safe work place, inclusion, and support. My advice to other companies, their owners, and decision makers would be to allow more interaction and mentorship for disadvantaged LGBTQIA employees and firms wanted to work with them.
How does your company engage with LGBT-owned businesses or suppliers to foster economic empowerment within the LGBT community?  
Since founding Pride Resource Partners, we actively engaged with the community and offered our support in helping new commers to the market to succeed. We offer mentorship to other LGBT firms, helping them to grow and to be successful as us. We make introductions and help network their services while promoting subcontracting opportunities as well.
Can you share any plans or goals your company has for the future in terms of LGBT advocacy, innovation, or expansion?
We have big plans to grow the company within California and beyond. We do this by opening new office locations. Part of our activities include communicating with local governments and ask them for help in diversifying their pool of qualified LGBTQIA+ firms.
To learn more about Pride Resources Partners, please visit https://priderp.com/.