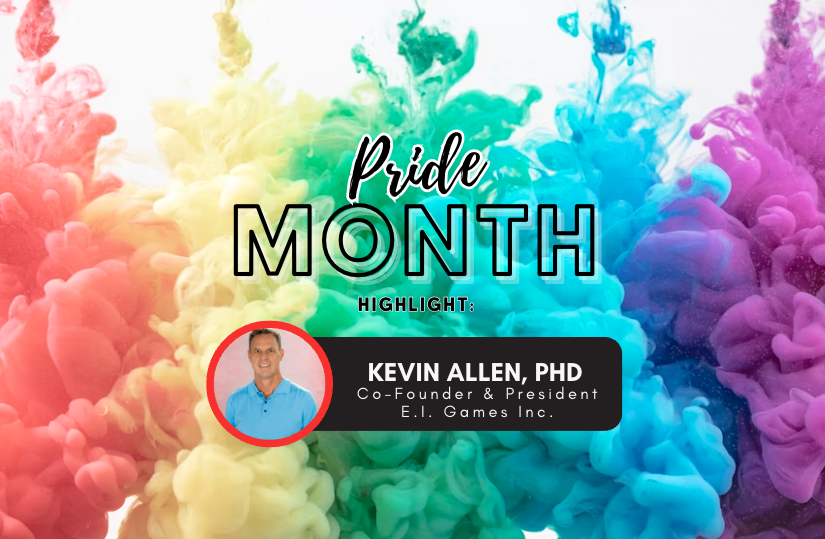 In honor of #PrideMonth, we are highlighting business owners in the LGBT community. Read on to discover how Kevin Allen, PhD and co-founder of E.I. Games promotes diversity and inclusion through his work.
Can you tell us about the founding story and vision of your LGBT company? What motivated its creation and what impact does it aim to make?
E.I. Games was formed because of a challenge from one of my most inspired clients, Angela Ahrendts, when she was the CEO of Burberry. After a successful training program for her people in emotional intelligence, Angela said to me that "There's something special about the way you make people feel— you've done that for 100, how can you do it for 1000?" We created our game to deliver this content at scale. We now have 12 games enjoyed by over 50 colleges and universities like Arizona State and companies like Oracle. I thought long and hard about the core of my training, which is, no matter what subject it happens to be, whether it's leadership or marketing or any of the business subjects I teach all are rooted in shattering the myths about archetypes and that only certain kinds of people can be successful in business and in organizations. All our training games in Emotional intelligence emphasize positive self-awareness: Ultimately, being the person you are as you are is the ticket to success.
How does your company prioritize and promote diversity and inclusion within its own workforce? 
My husband Karl and I are the founders of E.I. Games and proudly go to market as an LBGTQIA+ owned company. We have been blessed with an LGBTQIA+ team and trans people in our most senior leadership roles. I'm so very proud of this. We include others from the LGBTQIA+ community on our staff and among our cherished partners.
Can you share any specific initiatives, programs, or policies that your company has implemented to support and uplift the LGBT community?
We are proud members and supporters of the NGLCC, The National LGBT Chamber of Commerce, and make it a point to have this logo emblazoned on all our correspondence and in our communications. We want to be certain that anyone that comes in contact with our company recognizes how proud we are to be an LGBTQIA+ company and also that we support the community openly and proudly.
What partnerships or collaborations has your company established with other organizations or businesses that share a commitment to LGBT rights and equality?
Of course, as I mentioned our relationship with NGLCC is terribly important but also with clients who have placed diversity, inclusion, and equity as a key initiative. We made the investment to develop one of our most complex and sophisticated games our diversity, inclusion, and equity game, (It's a gold award winner from our Industry association!) It has been deployed successfully at colleges like Arizona State and companies like Unispace globally. The latter organization has reported significant changes in attitude and opening of dialogue because of the employees playing and engaging with this compelling simulation.
Can you share success stories or positive impacts that your company has had on the lives of LGBT individuals or the LGBT community as a whole?
If you were to look at any of our games you will see that the LGBTQIA+ community plays an integral on-camera role in the learning outcomes and other components of our educational games, so that these wonderful people that make up both our friends and our adopted family deliver the content of our games. This not only makes a profound and better connection with the game players, but it demonstrates to the world that these are people for whom we place an enormous amount of confidence and celebrate as brilliant contributors to the dialogue of successful emotional intelligent business practices.
How does your company celebrate Pride month and support LGBT visibility and empowerment during this time? Are there any specific events or campaigns that you're excited about?
Actually, as you can see, every month is pride month for us.
What advice would you give to other companies looking to be more LGBT-inclusive and supportive in their practices and policies?
I think the most important thing I could ever suggest to any firm is it must start at the top. The CEO and members of the leadership team must be seen as actively participating in LGBT-inclusive and other diversity programs. The biggest criticism I have seen is from organizations that have launched diversity programs, but whose leaders fail to participate in them. It becomes painfully evident to the employee base, that while the initiative is happening, the obvious lack of senior leadership participation communicates that it actually isn't very important.
How does your company engage with LGBT-owned businesses or suppliers to foster economic empowerment within the LGBT community?
As mentioned, we try everywhere we can both in terms of the individuals that are included in our games as well as those who support it to make positive and solid contributions to the games that we make.
Can you share any plans or goals your company has for the future in terms of LGBT advocacy, innovation, or expansion?
We have renewed our commitment to the NGLCC and will continue to find avenues to make public declarations of our pride in being an LBGTQIA+ owned business, and a Florida-based business at that, and to stand for our community, especially in these times when the community is under attack.