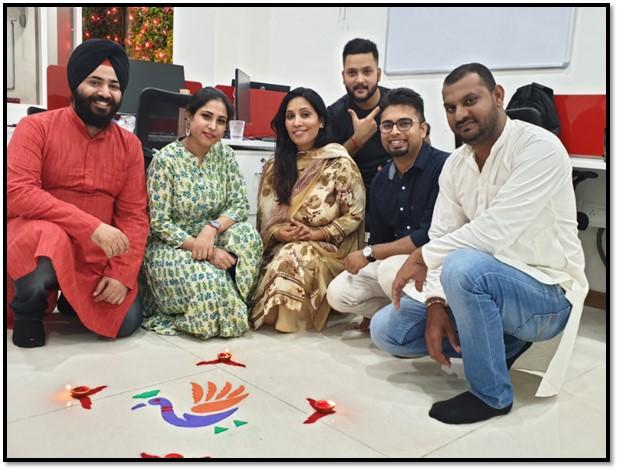 Our Recruiting Manager, Melvin Singh, provides us with an inside scoop on Diwali and how you can celebrate the festival of lights in this exclusive interview.
What is Diwali?
"Diwali is considered as one of the biggest festivals of India. It is also known as "the festival of lights". There are many reasons why Diwali is celebrated and different religions have their believes for following and celebrating Diwali. For Hindus, it's a celebration of victory over evil, when Hindu Lord Rama, fought a battle against Ravan who captured Lord Rama's wife Sita. Upon killing the Ravan in the battle, Ram returned home along with his wife and brother after spending 14 years in their exile into the wilderness."
"For Sikhs, this festival is called "Bandi Chhor Diwas", where Bandi Means Slave and Chhor means "To Release". Sikh's 6th Guru, Guru HarGobind Ji who was captured by Mughals in the Fort of Gwalior, was released from the jail along with 52 Hindu kings who were captured by Mughals from different battles and kept as slaves. Mughals kept a condition in front of the Guru, that only those Hindu kings will be released that will hold Guru's hand and will go out of the gate in one go. To this the Guru built a cape with 52 strings attached to it and all the 52 kings, held the cape of the Guru to make a human chain, so everybody gets released at the same time."
How do people celebrate it?
"People celebrate Diwali by visiting holy places and praying to God, lighting candles and Diyas (lamp), exchanging gifts, cleaning and painting their houses, decorating and putting lights on their houses. Drawing Rangoli (art) on the floor, wearing new and beautiful clothes, burning crackers, playing cards and gambling."
Why does Diwali last 5 days? 
"Hindus celebrate Diwali for 5 days, where:
Day 1 is called Dhanteras. The word is derived from 'Dhan' means wealth and 'Teras' which means thirteen. The day falls on the thirteen lunar day of Krishna Paksha in the Hindu month of the calendar, every year. On this day people buy any kind of metal (utensils or jewelry) to bring good luck. 
Day 2 is called Choti Diwali or Naraka Chaturdashi. On this day Lord Krishna defeated a demon named Narakasura and released 16,100 females from his captivity. People celebrated the Victory of Good over Evil and lighted the whole city.
Day 3 is called Diwali or Lakshmi Pujan. This day marks the return of the Lord Rama, Sita & Lakshman to Ayodhya (their home town after 14 years). People do Lakshmi Pujan because Lakshmi, is the Goddess of wealth and prosperity and she is worshipped on this day for a good new year ahead.
Day 4 is considered as a New year according to Hindu Calendar. On this day Vishwakarma puja or Govardhan puja is done to worship and pay tribute to Lord Vishwarkarma who is a Hindu God and a divine architect who created this universe.
Day 5 is called Bhai Dooj. This day is celebrated as special bond between a brother and sister."
Is there a proper greeting for Diwali?
"People typically greet each other by hugging, smiling, exchanging gifts and sweets and wishing Happy Diwali."
How will you celebrate Diwali this year?
"With Covid19, it is not advisable to do public gathering, shopping and burning crackers. It may lead to air pollution which may lead to respiratory problems for people suffering from Covid or in general. We will celebrate ECO-Diwali by drawing Rangoli, decorate home with "earthen lamps or diyas" instead of electrical/Chinese Diyas, gift plants, donate things to the needy, stay indoors with family and play games, music and dancing and eat home cooked food."