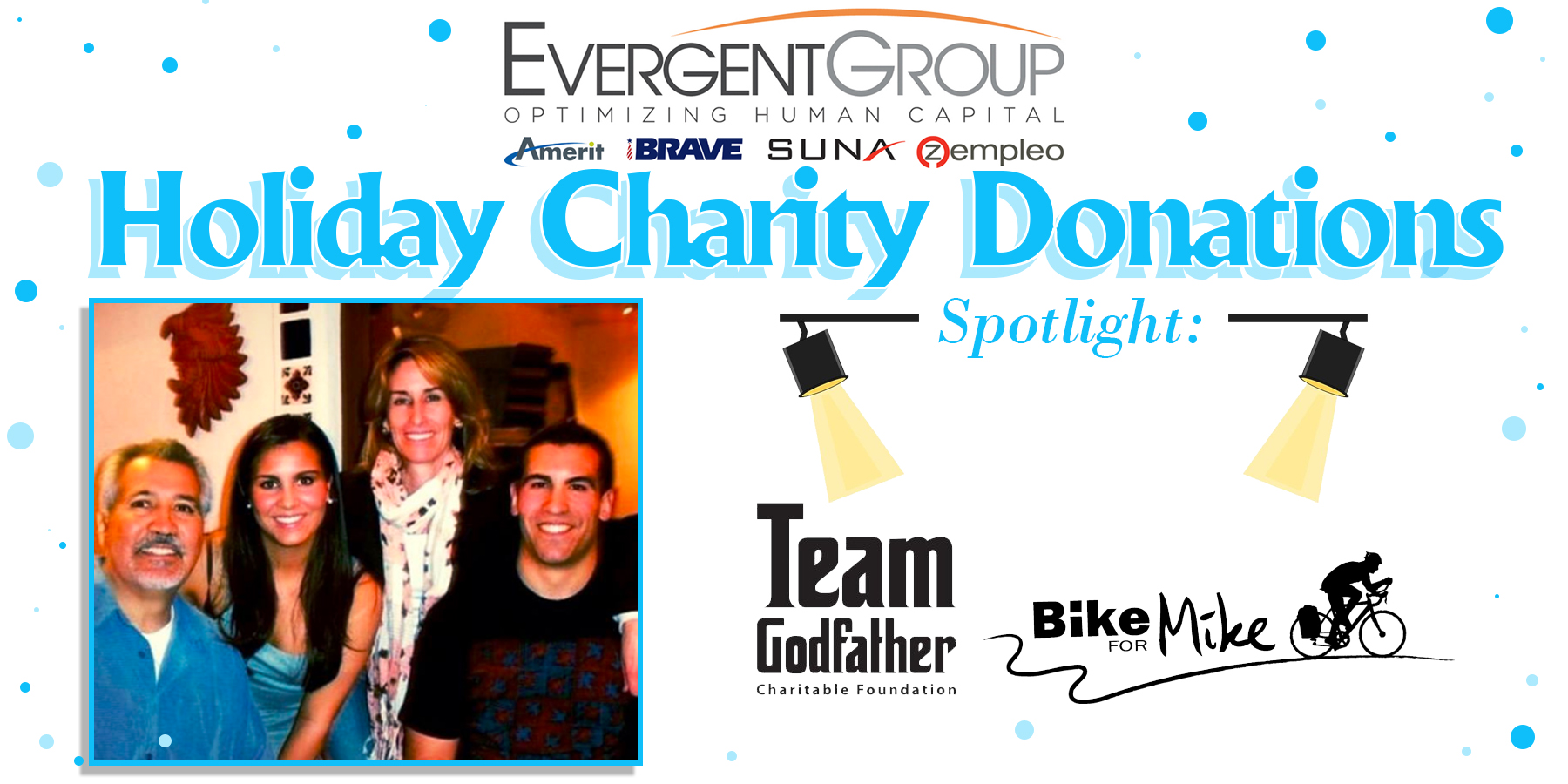 Employee, Lauren Ramirez fills us in on why Team Godfather is important to her for our company to include in our Holiday Charity Donations.
The world is small, and life is short. I'm incredibly thankful to be working with a company that cares about its' local community, hopes for a better world as a whole and supports a foundation that means everything to me.
Michael Ramirez Sr. (San Diego native), was diagnosed with Amyotrophic Lateral Sclerosis (ALS), also known as Lou Gehrig's disease, in 2009. ALS is a cruel, terminal, degenerative disorder that causes permanent paralysis and destroys nerve cells that control voluntary muscle movement. It has no cure or treatment, and about 6,000 Americans are diagnosed with ALS each year. Mike Sr. processed his diagnosis, and then turned his energy to searching for a cure through fundraising by co-founding the Team Godfather Charitable Foundation. Team Godfather plans fundraising events that put the "fun" in fundraising, and then donates proceeds directly to ALS research efforts at the ALS Therapy Development Institute in Cambridge, Massachusetts.
I married Michael Ramirez Jr. in Nov 2015, and accepted a position with Suna Solutions in July 2016. When I started communicating with Suna Solutions about potential job opportunities, I had no idea how deep our connections would run. We talked over how my sales background would translate well into a recruiting role, but we didn't get the chance to discuss that Suna Solutions regularly supports Team Godfather and includes them in their Holiday Charity Donations. Today, my husband Mike Jr. and my manager, Nadia Giblin, both serve together on the Team Godfather Charitable Foundation Board. Mike Sr. passed in 2012 after bravely battling ALS for 2.5 years, but in 2016, Team Godfather was able to celebrate together, with their supporters, reaching Mike Sr.'s original goal of raising $1 MILLION in research funds.
Suna Solutions isn't just a workplace; it's a caring, supportive community. I've now come to know that Suna employees have been at the same Team Godfather events as my family and I, for the past two years. Now as a tight-knit company, we get to share our Team Godfather event stories with each other and enjoy hitting foundation goals together- and we're all looking forward to Team Godfather's upcoming event in March 2017, Bike 4 Mike at the Del Mar Fairgrounds.
Team Godfather is so much more than a foundation that raises funds for research. Team Godfather is an example of a community coming together to rally for one of its own, and then continuing that fight for the better good. ALS is cruel, and the search for a cure if a very noble and worthy cause. Team Godfather accepts that challenge head on, but further than that, they seek out ways to directly support families that are dealing with an ALS diagnosis as well. I've watched Team Godfather board members attend ALS support groups to let patients know they're not alone, those same members visit the home of a family they've never met to lend advice and comfort after a new diagnosis, and even answer their phones in the middle of the night and drive over to assist a family that has lost a loved one to ALS. Team Godfather cares on a deep level- and it's evident by their growing community of supporters.
I'm thankful to work for Suna Solutions, whose employees are passionate in and outside the workplace. I love getting to see both my real family and work family coming together to continue the efforts of Team Godfather and the Holiday Charity Donations.
For more information on Team Godfather Charitable Foundation, their upcoming event in March or about ALS in general, please visit: