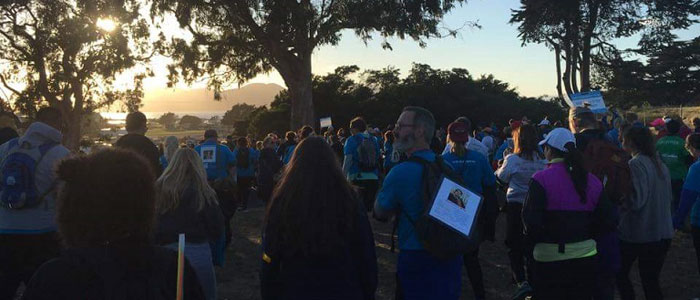 I wanted share my experience with the American Foundation for Suicide Prevention's Overnight Walk that I participated in last Saturday May 21st, thanks to all of Suna for your amazing support! My friend Shilo and I walked the entire route, all 16.75 miles of it! It took us 8.5 hours. We left at 7:30 in the evening and arrived at about 4:00am the next morning.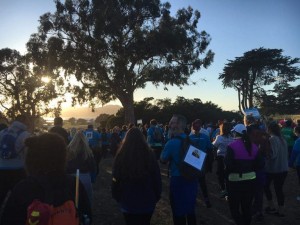 It was really an amazing sight to leave the staging area at Fort Mason and walk towards the sun setting behind the Golden Gate Bridge and along the Marina. The event was designed to be a sort of walking tour of the city at night. It was really amazing to see the beautiful sights of San Francisco in that way and I felt pretty special to be able to have that unique perspective of the city that most people have never had. Throughout the walk we passed several landmarks, including the Palace of Fine Arts, Japan Town, China Town, the Financial District, AT&T Park, the Embarcadero and the Bay Bridge.
There were people from all over the country at the walk. A really diverse array of ages, ethnicities and backgrounds were present, including a number of Veterans and currently active military. Veterans die by suicide at a rate of 22 people a day, and in order to raise awareness of this crisis, some military men and women do awareness walks that are 22 miles long, while carrying 22 pound packs. The AFSP specifically seeks to support veterans by designating silver as the honor bead color in support of military and first responders who are effected by suicide.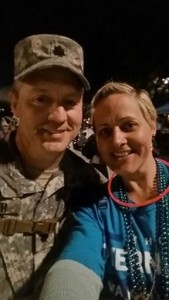 The support crew for this event was amazing. I've been volunteering and fundraising since I was 10 and this was the most well supported and executed event I've ever been a part of by far. We had friends that stayed up all night to cheer us on via social media, and one friend showed up at 2:30 in the morning at the last cheering station with balloons for us! It was easy to keep going because of them, and because of all of the other wonderful people walking, the names we each carried on our shirts, and knowing that so many people supported us with donations and love.
The entire Overnight Walk was such a great experience, so positive and inspiring, and this cause is so necessary. AFSP has an ambitious goal of reducing suicide rates 20% by 2025. I'm really determined to help them reach that goal. I'm so thankful to the Suna family for being a part of my personal experience and for the positive impact in reaching AFSP's goal. At the opening ceremony on Saturday they announced that next year's walk will be held in San Diego!  Shilo and I are absolutely committed to and excited about doing it again! What we want to know is who's with us for 2016? Don't worry, we're old pros at it now, we'll go with you and you won't be alone, promise.
By, Beth Roush